Delphi Air Conditioning Centres are the leaders in the independent garage industry for vehicle Air Conditioning System servicing. All Air Con Centres have invested in specialised equipment and undergone an intensive training programme to fully understand vehicle Air Conditioning Systems and to become Specialists.
Delphi Diavia and Harrison have over thirty year's experience in the field of Air Conditioning and are Specialist Manufacturer's of mobile Air Conditioning Systems and parts. Diavia and Harrison are O.E. suppliers to a number of vehicle manufacturers including Alfa Romeo and Ferrari.
Air Conditioning systems need maintenance and only have a two-year or 24,000 mile maximum service interval on most vehicle models. Yet it is not part of most servicing schedules, hence the necessity of the professional service offered by Delphi's Air Conditioning Centres.
Your Local Air Conditioning Centre can provide you with a effective check of your vehicles Air Conditioning System, which will demonstrate the systems current efficiency and can carry out a quality comprehensive Service which consists of: -
Cabin Temperature at Air Vents
Quantity of Gas in the system
Pressure in the System
Drive Belt tension and condition
Condition of hoses and fittings
Recharge of the Refrigerant

Microbiologically cleaning the system
Cabin / Pollen Filter
Receiver Drier
Keep your vehicles Air Conditioning working in an optimum condition by visiting a Air Conditioning Centre today and having the system checked and serviced. You can have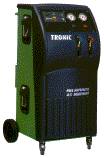 confidence that you will receive a friendly, professional service from highly trained Air Conditioning Specialists.