Tuning
Sun Electric are recognized as market leaders in diagnostics and emissions products throughout the Automotive Aftermarket. Through a period of intensive development, they have gained similar recognition in air conditioning service equipment and brake, suspension and safety systems diagnostic & test equipment.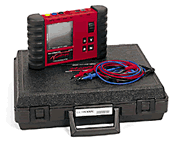 Sun Vantage Graphing Meter - The Sun Vantage component-testing powerhouse combines a graphing digital millimeter with a diagnostic database. It's like having a complete library of shop manuals for sensor and component
testing for most engine-management components, many transmission sensors and components, as well as ABS.
The EESCGB103A Vantage includes the Version 4.0 Update Board. Our new software gives you Year 2000 updates by make, year, model and engine, helps locate components, best test locations and doubles the time base per screen from 10 to 5 milliseconds so you can detect dropouts quicker than ever. Add dual drop down cursors, dual screens and movie review and it's easy to see that the Vantage is more extensive and easier to use than any lab scope.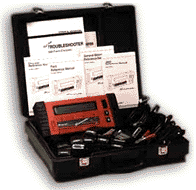 Sun's PDL 1000 Scanner is an interchangeable cartridge-based system, designed to enable the operator to communicate with multiple on-board vehicle computer applications. Not only able to read and reset trouble codes but also capture live data, live sensor readings etc. Even tuning adjustments, e.g. CO on Rover systems are possible with the PDL 1000. Depending on the vehicle's ECU and primary cardridge, communication is possible with not only engine management systems but also with automatic transmissions, airbags, ABS, air conditioning systems, instrument panels and more.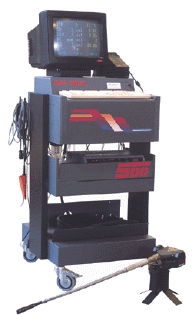 High-performance

User friendly

Modular construction
The best fit now and for the future

Whatever vehicles you service, a DGA 1800 can meet your requirements. Choose between gasoline and diesel - or both - along with LPG, gasohol or virtually and fuel type. As with the famous range of SUN Electric engine analyzers; add the diagnostic sensor systems you need for the measurement of engine parameters such as ignition, timing and dwell and select from an inventory of make-specific test adaptors. At any time in the future, add a communications link to engine management ECU's and build up a software library of test and diagnostic data and routines.
---
We welcome new customers from the local area Cobham Byfleet West Byfleet Addlestone Chertsey Esher Weybridge Walton on Thames Ripley Woking and the surrounding area.